Why You Should Choose We Buy Property & Damaged Houses:
The Christchurch earthquake left a lot of people devastated and property worth millions destroyed including homes. For those who had insured their houses, they were lucky as some of the homes have been compensated by the insurance companies. However, not all the houses were insured. This means that some people had to decide whether to renovate their homes or sell it as is, where is to Christchurch house buyers who buy earthquake damaged houses. We Buy Property, is one of the firms that buy houses from individuals selling uninsured homes or earthquake damaged house at a good rate. So why choose We Buy Property?
Fast Contracts
We understands the need for one to sell his or her house fast and to start looking for somewhere else to live. Therefore, in order to ensure that you get your money fast and move on, we ensure that you get your money within the first week of the contract signing. During this period our team of experts will visit your home to check and evaluate the damage, check and sign the necessary documents and even advice you on what to do or where to go. We buy houses Christchurch as-is-where-is. This means we buy houses in any location and in any condition.
No Commission or Fees
The good thing about selling your house directly to an investor like We Buy Property is that you get the full amount of money agreed upon. There are no commissions or hidden fees as is the case with brokers or realtors. Sometimes the real estate agents make a lot of money as middle men and leave you dissolute. On top of getting your full amount of money, you will not have to wait for us the buyer to first start looking for someone else to buy the house for you to be paid. Once we have seen the house we pay right away.
You Get To Move When You Are Ready
We at WeBuyProperties.co.nz, have the interest of our clients at heart. This basically means that we do not force you out of your house immediately we pay you. No, we let you stay in your house for a period of time until you get another place to move into. Additionally, with our team of experienced professionals, we will help you find another home in just a few days time. We will only start repairing the earthquake damaged house only when you are out of the house. Therefore, feel free to sell your house to us and you will never regret making that decision.
Great Customer Services
We focus on great customer service as without you as our customers we cannot do business. Our team of professionals will take your request as confidential and pay attention to all your needs before we come officially to see the house you are selling to us. In case of any problem we are always eager to help and make you get the best out of your house.
Wider Presence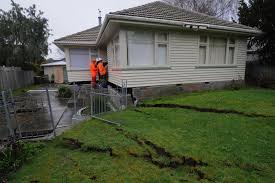 We buy houses Christchurch as-is-where-is, so do not worry so much about the location.     We will come and see the house and immediately make a deal with you. Unlike other Christchurch house buyers, we will not charge you anything because of the location of the house. All we need is the rightful ownership of the house. If you have the documents showing that you own the house and willing to sell it to us we will make an offer right there.
The following is how the process of selling and acquisition of the house is done:
First, you will have to make contact with our team with the need for us to buy the house. This is important because we will not know you want to sell your house unless you tell us.
The second step is that we will have to visit your property to carry out an independent assessment of the house and review all the available information. Ie. Scope Of Work and insurance claims information. This is necessary when making an offer for the property. Do not worry so much about the evaluation as we buy all damaged houses no matter their condition.
Once we are through with the inspection, the next step is to make an offer. Based on our findings, we will make a formal offer on the house and allow you to think and consider the offer. We will not push or coax you into accepting our offer. You will be allowed to think and decide on your own.
If you accept the offer, the next step is signing of the contract. Once the contract is signed we will pay a deposit for the property.
The last step is paying the remaining amount of money. Once the full amount is paid, we will allow you to continue staying on the property until when you can move to an alternative house.
Reasons Why Selling Your Earthquake Damaged House Is The Best Option